Written by Kelsey Dennison
Australia is renowned for its coffee culture, so it's no surprise that Sydney is a cafe-lover's dream. If you're headed to Australia, you can't miss these ten unique and wonderful cafes. Once you've been poured a delicious flat white at one of these spots, you may never want to leave! 
While it would probably take a lifetime to try every delightful cafe Sydney has to offer, I've collected a few favorites from my visit this past June. Without further ado, I present to you in no particular order some of my favorite spots to grab a coffee and chill out in Sydney (plus a few bonus suggestions in Byron Bay, Gold Coast, and Brisbane): 
1. The Grounds of Alexandria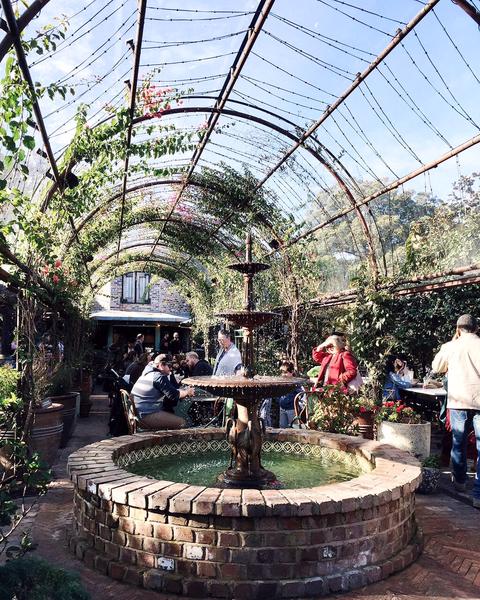 The famous arched trellis and fountain at The Grounds of Alexandria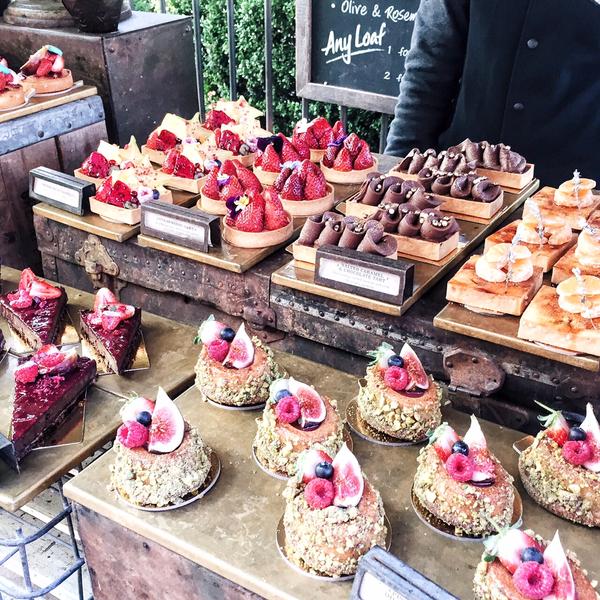 A sampling of the many delicious and beautiful sweet treats on offer at The Grounds of Alexandria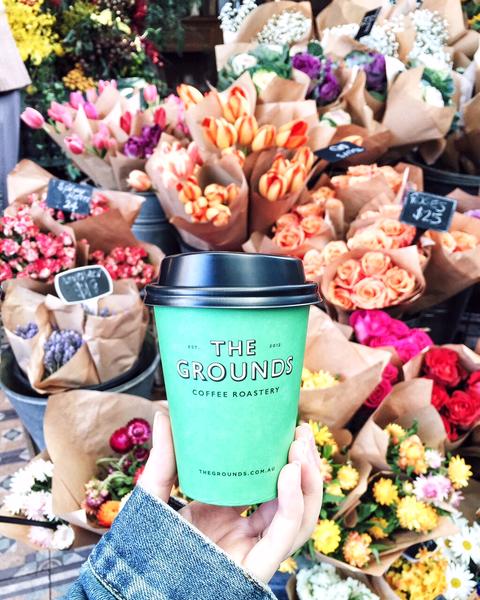 Be sure to pay a visit to the markets at The Grounds of Alexandria to see these beautifully colorful flowers
Converted from a former 1920s industrial precinct, The Grounds of Alexandria is truly a cafe-lover's heaven. With event spaces, shops, a sustainable garden, multiple full-service cafes, and open air seating to enjoy the many delectable drink and dessert stands, The Grounds is not just a cafe but an experience. Plan to spend a full morning or afternoon here to take it all in – you'll be planning your return visit to this unique site before you even leave! 
Address: Building 7A, 2 Huntley St, Alexandria, NSW, 2015 
2. The Boathouse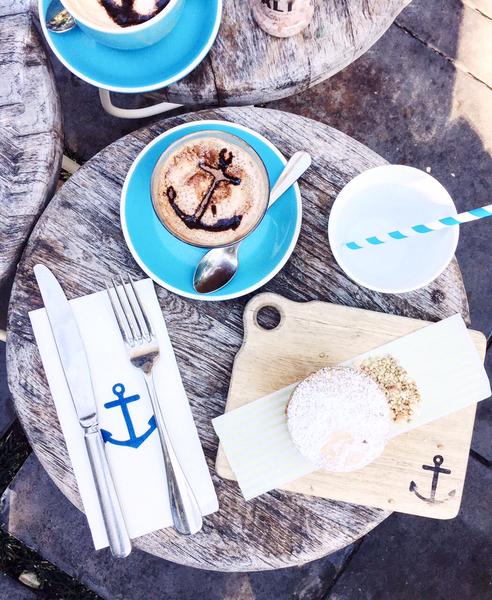 The Boathouse takes their seaside location seriously – the nautical theme even extends to their latte art! Pictured here is my coffee break at the Palm Beach location. 
With beachside locations at Palm Beach, Shelly Beach, and Balmoral Beach, The Boathouse group of cafes is out of a nautical-themed dream complete with anchor coffee art. For a fun and active morning, I would recommend combining a beachside walk or run with a rewarding brunch at The Boathouse. During my visit, I hiked up to Barrenjoey Lighthouse then followed it up with coffee and grub at The Boathouse Palm Beach.  
Address (Palm Beach Location): Barrenjoey Boathouse, Governor Phillip Park, Palm Beach, NSW, 2108 
3.

Doux

Amour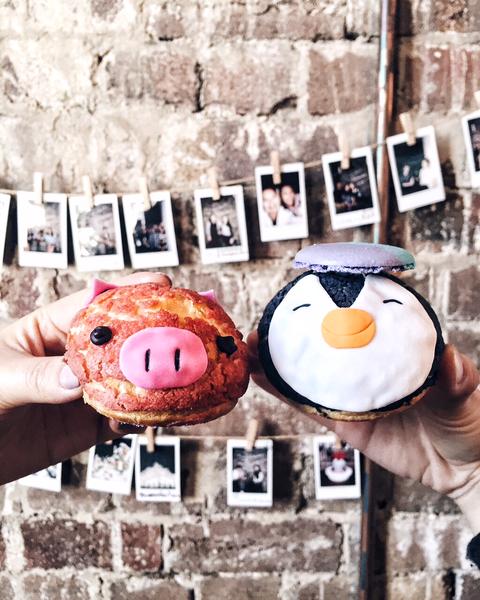 Desserts don't get more adorable than the animal cookie puffs at Doux Amour café! 
Doux Amour patisserie is home to the Instagram-famous animal cookie puffs – frogs, penguins, bears, pigs, and more! I can attest that these cookie puffs are just as delicious as they are adorable, with unique flavors such as black sesame, rose, lychee, and the always-delicious matcha. The walls of Doux Amour are adorned with polaroid shots of their customers – join the wall of fame yourself and take a look for yours truly! 
Address: 2/797 Botany Rd, Rosebery, NSW, 2018 
4.

Calabur

Café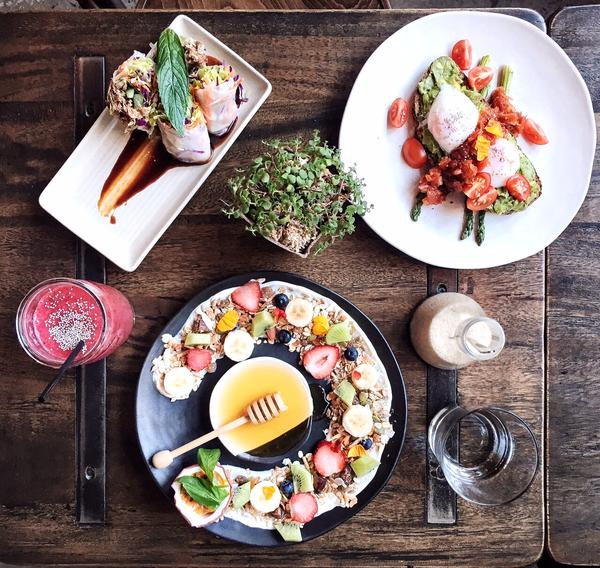 Granola fruit market, avocado toast, and duck spring rolls at Calabur Cafe 
Located in an unassuming basement space in Bondi Junction, Asian-inspired Calabur Cafe totally blew me away with its artful plating, amazing service, and awesome classic rock playlist. Calabur Cafe's ideally situated skylights create the perfect natural lighting for foolproof foodie photos. My top food pick is Calabur's "Granola Fruit Market," a beautifully arranged creation of yogurt, fruit, granola, and your very own honey dipper. 
Address: 51-53 Spring St, Bondi Junction, NSW, 2022 
5. Harry's

Bond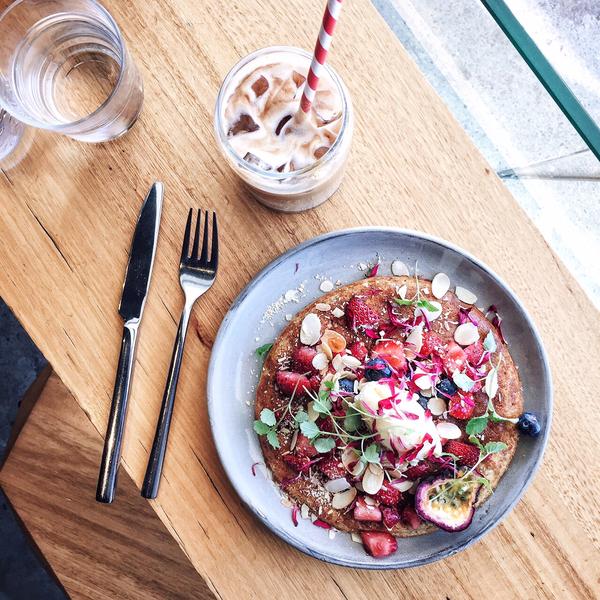 Delicious ricotta hotcake and iced coffee at Harry's Bondi 
Perfectly situated next to Sydney's iconic Bondi Beach, Harry's is a Sydney classic. I fueled up with the ricotta hot cakes and an iced coffee before heading over to the Bondi to Coogee coastal walk. I had never tried edible flowers on my pancakes before visiting Harry's, but to me it's the little touches like this that put Australian cafes in a category of their own. 
Address: 2/136 Wairoa Ave, Bondi Beach, NSW, 2026
6. The Paramount Coffee Project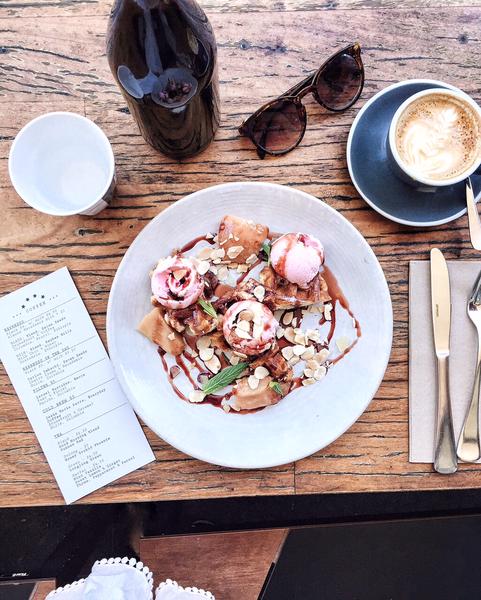 The Paramount Coffee Project knows the right way to serve waffles – with ice cream and a flat white of course! 
The Paramount Coffee Project was the first cafe I visited in Sydney (and where I tried my first ever real flat white). The cafe features high quality coffee and an interesting brunch-focused menu – I ordered waffles topped with poached quince, rose ice cream, hibiscus and berry syrup, green tea praline, and flaked almonds… how's that for an order! The Paramount Coffee Project has recently expanded to Los Angeles, so if you can't make it all the way to Sydney, you can still get a slice of the Australian cafe experience in America! 
Address: 80 Commonwealth St, Surry Hills, NSW, 2010 
7. Speedos Café
Speedos Cafe has perfectly captured the chilled-out surf vibe of world-famous Bondi Beach. Definitely head here for a picturesque pitaya bowl or hot cakes before hitting the beach. Speedos offers vegan, dairy-free, and gluten-free menu options. 
Address: 126 Ramsgate Ave, North Bondi, NSW, 2026
8

. Folk (Byron Bay)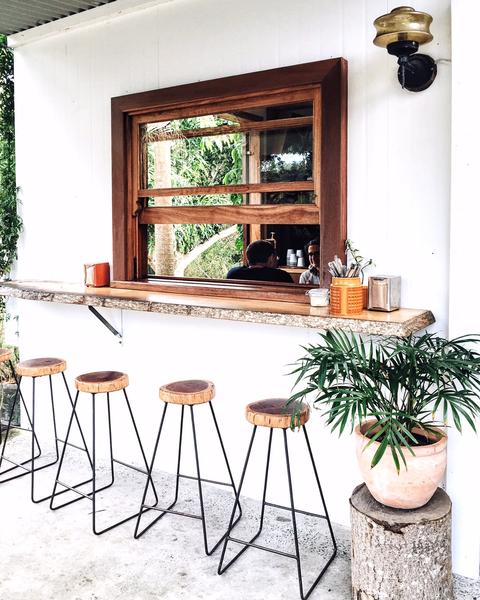 Folk's rustic Byron Bay exterior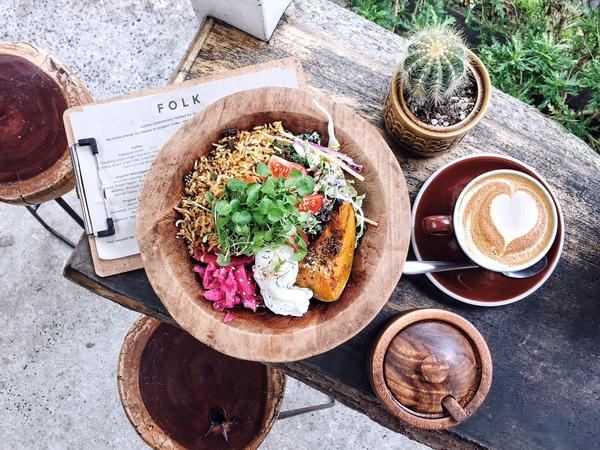 The autumn abundance bowl and a flat white at Folk 
Folk in Byron Bay is the kind of spot where you can lose track of time for a day. This organic, plant-based cafe is set in a converted trailer and boasts a killer folk rock playlist (its name rings true!) and ample outdoor seating. I went for the autumn abundance bowl and a flat white – definitely recommended. If you get a chance, try out Folk's sister café Woods in Bangalow for more laid-back plant-based cafe vibes. 
Address: 1/399 Ewingsdale Rd, Byron Bay, NSW, 2481 
9

. Coffee Anthology (Brisbane)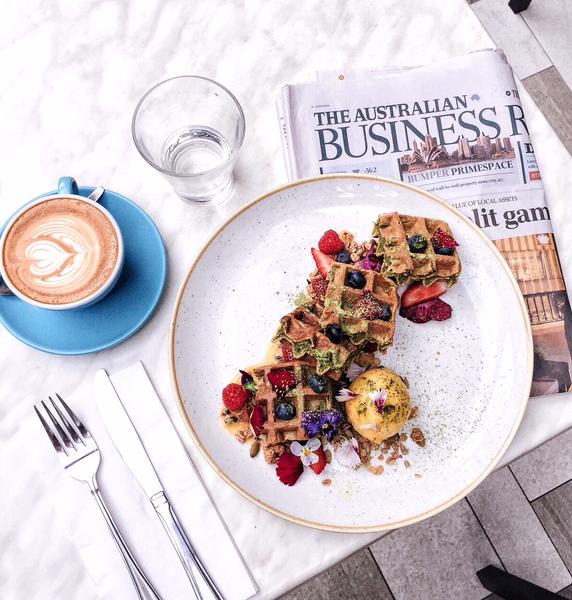 The matcha waffles at Coffee Anthology in Brisbane are worth missing a flight for! 
Although I only had a few hours to grab lunch on a quick stop in Brisbane before hopping on my flight to the Whitsundays, the matcha waffles at Coffee Anthology were worth narrowly making it to the airport on time. Located right downtown, Coffee Anthology is a must-try if you ever find yourself in the Queensland capital city. 
Address: 126 Margaret St, Brisbane City, QLD, 4000 
10

. The Salt Mill (Gold Coast)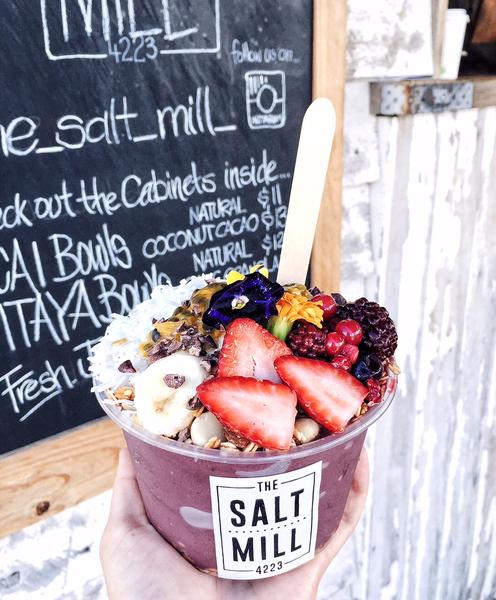 The Salt Mill on the Gold Coast – home to quite possibly the most beautiful acai bowls on earth 
I never knew acai bowls could be quite this exquisite until I visited The Salt Mill on the Gold Coast. Located in a small storefront right across from the beach and featuring exclusively outdoor seating, The Salt Mill truly feels like a beachside hidden gem. Grab yourself an acai or pitaya bowl then cross the street to Currumbin Beach for a surf! 
Address: 784 Pacific Parade, Currumbin, QLD, 4223