by Betty Nguyen
I still remembered vividly when my father took out the paper map from the old station wagon's glove department and had everyone get out of the car to assist him with directions. He would glance at the road signs in front of us and then quietly focus on the map for several minutes. "Where are we, dad?" my brother, John, four years old at the time, asked. My father shrugged sheepishly as if to surrender to the fact that we were lost and John and I knew right then and there – we should have stayed home.
More than three decades later, we now have Google Maps to help us with our travel planning. In fact, there's more you can do with Google Maps than just finding your way to the nearest Metro station. Here are a few of my tricks I use during my travels.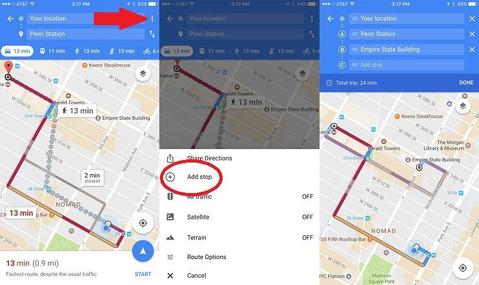 Add Multiple Stops ➕
Rarely do I just go from A to B. More often, it's A-to-coffee-to-nail salon-to-meet Michelle  then-to-B. It's a good thing Google makes it possible to anticipate real trips.
To add multiple destinations in the Google Maps mobile app, just enter your starting point and your ultimate destination and then click the three dots in the top-right corner. This will prompt a pop-over menu with the option to "Add stop." Click that and you can add a route with multiple stops. You will even have the option drag and drop stops within your itinerary. (Note that this doesn't work when you're using the mass transit option.)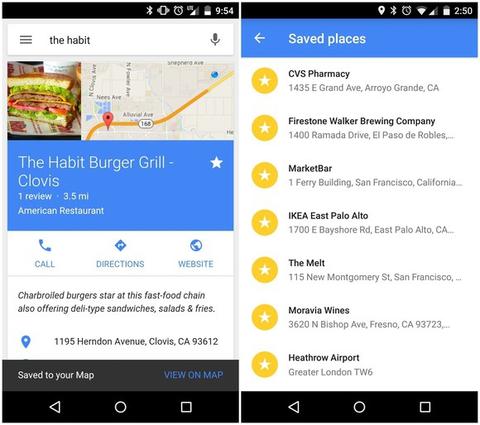 You're a Star ⭐️
I star literally everything I like and want to try – restaurants, dessert shops, cafes, etc. For travel, I often star museums, galleries, and my hotels. That way when I pull up the app, I have my own personal directory ready to go whenever I need it. It separates out the stuff I'm actually interested in and need from the fray. It's also useful when making plans on desktop (like if I'm going to a concert at the LA Bowl and my friend tasks me with figuring out where we should eat dinner nearby and the best spot to catch an Uber) and while walking around (say, I just got out of a meeting in DTLA and need coffee).
My Place or Yours?
It's a no-brainer, but saving your home and office in 'Your Places' will save you time and extra keystrokes (don't text and drive, folks). Rather than having to typing your entire address each and every time  – just type "H-O-M-E" and you're on your way.
Avoid Highways and Tolls
Google Maps will put you on the quickest route to get to your destination. If you're into avoiding the beaten path and discovering winding back roads (like I am) make sure to head to your settings and switch on AVOID HIGHWAYS and AVOID TOLLS. If you can avoid that $5 Dumbarton toll, then do it. And because highways are boring and you might end up finding a taco truck on the way.
Create Place-Specific Maps
Whenever I'm planning a future travel or even a walking tour, I make place-specific maps so I can add details and notes to each location – good items to order, cash only, closed on Mondays, whatever's clever. I'll even color code my pins and add pictures so I know what sort of place it is and what it looks like, just in case.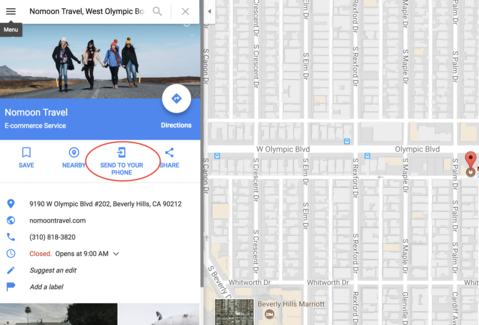 Share Location from Your Laptop
I often work from my laptop so it's nice to use the feature, Send to Your Phone (if you are logged in through the same ID) that lets you send the route details directly to the app, or as an SMS or email. 
Search and Find Nearby
While you're creating your maps or searching around your destination, you can search for places nearby, like places to eat and drink. You'll see places like restaurants, coffee shops, and other places of interest along with ratings and descriptions. Click 'nearby' and type the places you want to search. Results appear as red icons. You can also use the term "near." For example, coffee near Los Angeles Convention Center will return places to get coffee nearby.
Download Offline Maps
This works well when you're traveling abroad and may not have reliable data service or Wi-Fi. With this feature, you can download maps in advance without service. It's easy to pull up from the menu and you can download the map for any area, even if you're not there yet.
Drop It Like It's Hot
Where did I park? Where exactly are you? Drop a pin! When I am in a huge lot or garage, I drop a pin where I parked so it's easier to find. Also, I share my pinned location so friends can locate me at concerts, parks, etc. If you combine that with a photo of the row you're in, you'll save time and less stress.
Sharing is Caring
Being in travel, I always get requests for best places to eat or visit. Google Maps lets you share some of your favorite places with a friend. You can add an entry to a list (or create a new lists of favorites) from just about any location within maps. 
By default, these lists are private but you can make them public. The lists that you follow will also be available for offline usage and all the marked places will be on it.

 You can also share directions! All you have to do is search for the route and tap  on Share directions. And if your friend doesn't have the app installed, a message will describe in detail each turn they need to take. So no worries.
 Do you have Google Maps tricks or tips you want to share? Please comment below. ☟