written by Betty Nguyen
I have flown over Greenland many times, but never in a million years I imagined myself having the opportunity to visit this beautiful vast landscape. Tucked near the North Pole, Greenland is probably not the first place you think of for your vacation. It's a mysterious island full of unknowns. However, after my first visit, I was hooked. 
Here are my top 10 reasons why you should book your trip to Greenland now: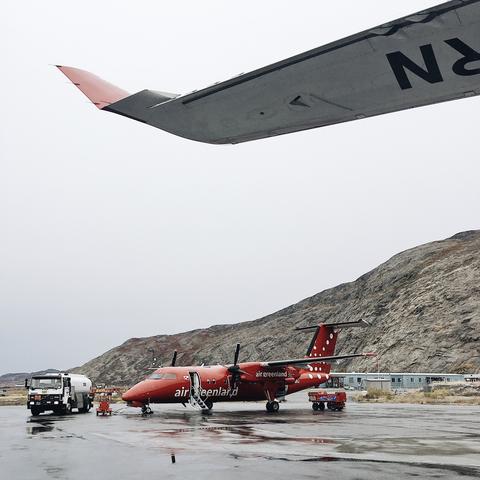 1. Getting There is Much Easier
Low-cost airlines like WOW or Norwegian Air has direct routes from the States to Reykjavik and Copenhagen airports. Air Greenland flies from these airports which means visiting Greenland is easier than ever.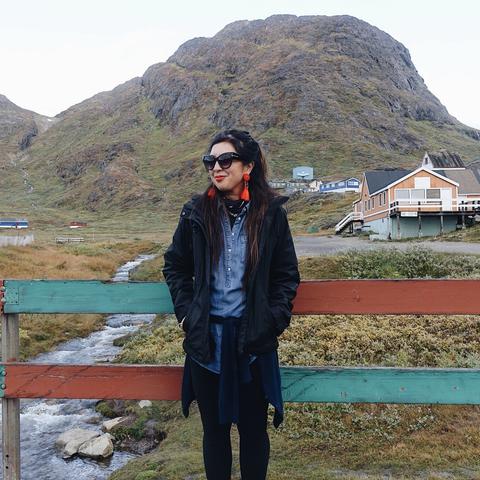 2.  Air Quality
Did I mention that I have asthma (well, I live in LA after all)? After two weeks in Greenland, I did not use my inhaler once. The air quality is seriously the best. I gave my lungs a good detox and it was extremely happy.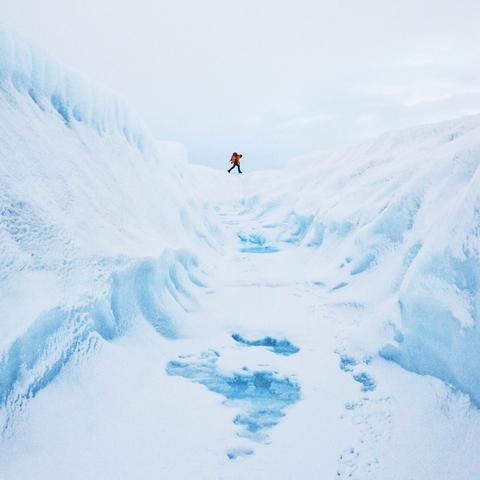 3. Icebergs and Glaciers
Despite the name, more than 80% of Greenland is covered in snow or ice. So it makes sense to come here for the ice. The most famous glacier is the Sermeq Kujalleq at Ilulisat isfjord, which is also the most visited. However, icebergs are found throughout most of Greenland, all unique in shape, color and size. 
One of the highlights of my Greenland trip was kayaking amongst the icebergs. There's nothing like it. These icebergs can be 100,000 years old and the fact that I was paddling around them, was quite memorable.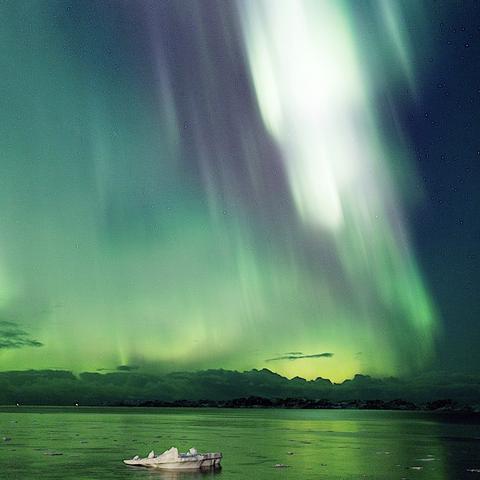 4. Northern Lights
I've seen Northern Lights before in Iceland. But I have never seen them in Greenland. Let me tell you, it was the most beautiful light show evvvvver. I caught the Northern Lights three consecutive days. The intense greens, the hazy purples, the yellows – they were all dancing and showing off every evening. I was definitely spoiled and highly recommend those to visit September or the winter time to see them.
5. World's Biggest Island 
Did you know that? I didn't. And Australia is not an island, it's a continent.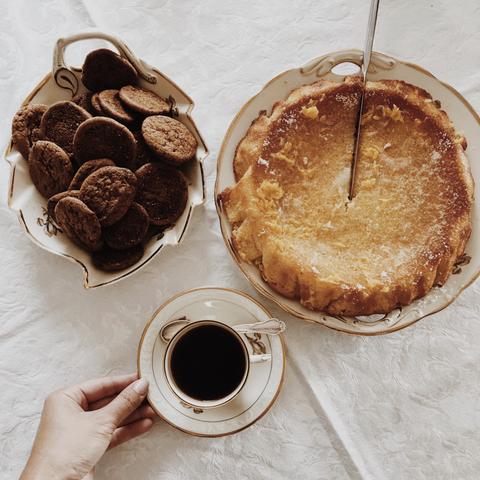 6. Inuit Culture and People
Another highlight of my trip was having coffee and cake inside a local woman's home. She told us about growing up in a small village and how her father and husband hunted seals and whales. It was very interesting for those who want to learn about history and local culture.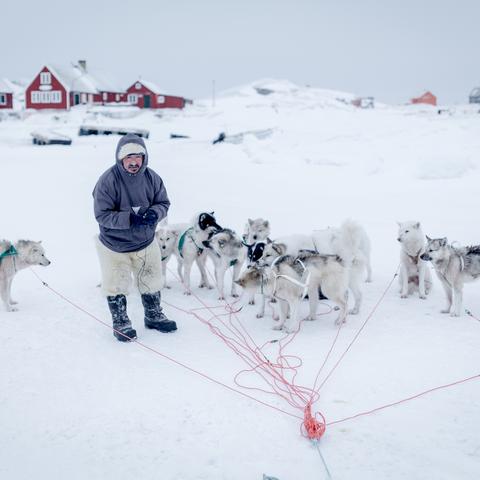 7. Dogsledding
Although I did not participate in dogsledding, learning about it made me want to. Dogsledding is an authentic tradition which follows the Inuit's ancestry and as part of their lifestyle – is well worth experiencing.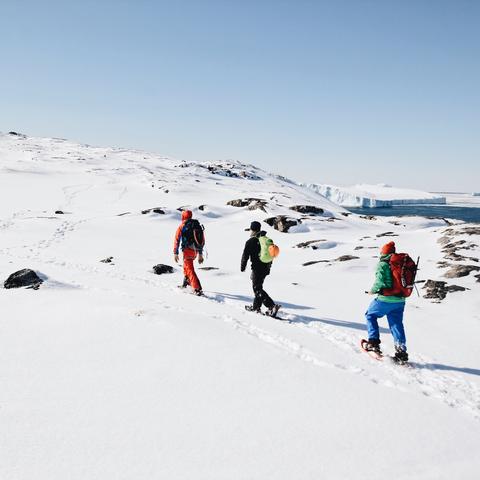 8. Climate Change Awareness
At Nomoon, we are climate change believers. With its ice cap and glaciers melting at a rapid rate, Greenland is at the center of the climate change conversation. It's troubling, yes, but more reason to visit Greenland before these beautiful glaciers disappears.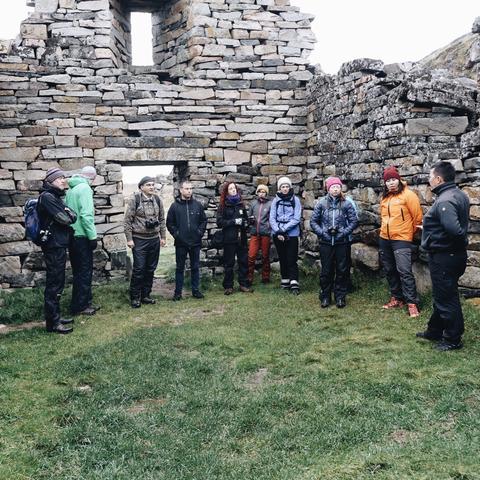 9. History – Settlements and Ruins
Greenland has had more than 60 settlements, but many of them are now uninhabited. As in the rest of the world there is a continuous urbanization where people are looking towards the city life and the young people do not return after completing their education elsewhere.
The first people came to the Thule Region 4-5000 years ago from Canada. In all, 6 Inuit cultures immigrated at various times and the present population are descendents of the Thule Culture that came to Greenland around the 9th century. It was about the same time as the Norsemen and Erik the Red arrived in Greenland in 982, as described in the Icelandic Sagas. 
During my Greenland visit, I visited several of these settlements and the Vikings ruins and had a much better understanding of fishing and hunting traditions and local lifestyle.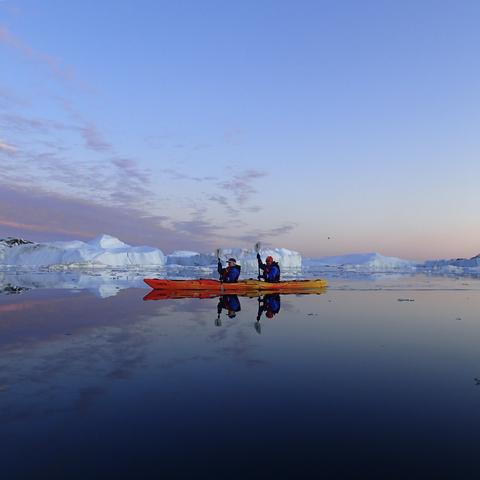 10. Kayaking
Another interesting fact is that kayaking was invented by the Inuit. Words to the world known as Igloo (dome-shaped snow home) and kayak (small narrow boat) originated from the Greenlandic words 'Igdlo' and 'Qajaq'. I personally recommend that you book a kayaking excursion during your Greenland visit to enjoy the surrounding wildlife or in my case, icebergs and glaciers. 
Hoping my top 10 reasons will inspire you to visit Greenland. Nomoon is now offering tours to Greenland. From dogsledding to kayaking trips, we also make sure you meet the locals and support their local businesses.
If you have any questions, please feel free to e-mail us or leave a comment below.