written by Betty Nguyen
To be honest, we did not know what to expect when we arrived in Matera, Italy. We've seen some photos and heard about the latest James Bond movie being filmed there. As the European capital of culture of 2019, we were excited to explore this ancient city of Basilicata. We booked a cave hotel, a private guided tour, and a last-minute restaurant for our one night stay.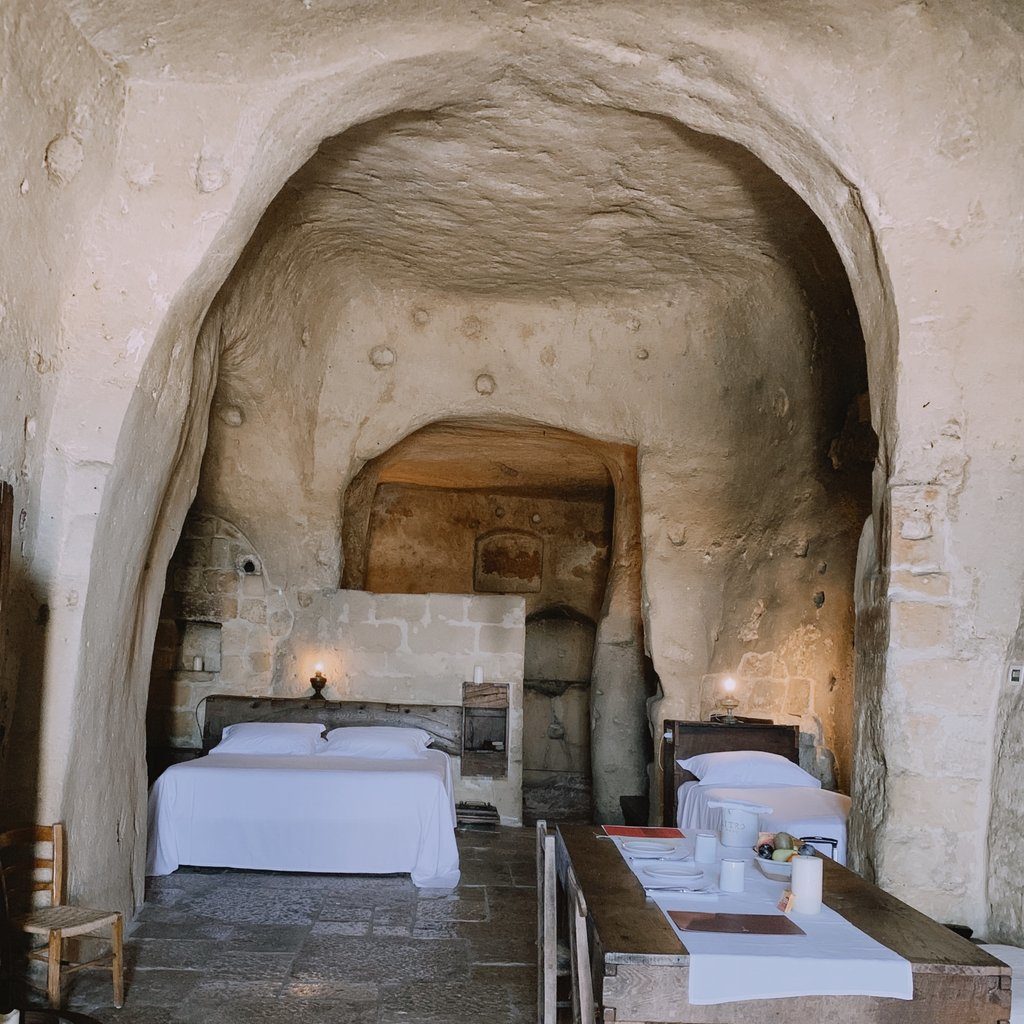 In Matera there are a lot of caves. You can sleep in a cave (very enjoyable), eat in a cave, and view modern arts in a cave. The ancient neighborhoods, known as sassi, are a series of grottoes carved out of limestone (and if you look closely, you can find shells and fossils).
Until 1952, Matera was a source of shame for Italy, a place of poverty, malaria and high rates of infant mortality, where people lived in caves without electricity, running water or sewage. Carlo Levi's book, Christ Stopped at Eboli, raised awareness of the desperate conditions people were living in and about half of the 30,000 population were moved to new homes in the modern part of the city between 1953 and 1968. There is still an ongoing debate on whether or not modernism helped or destroyed a traditional culture.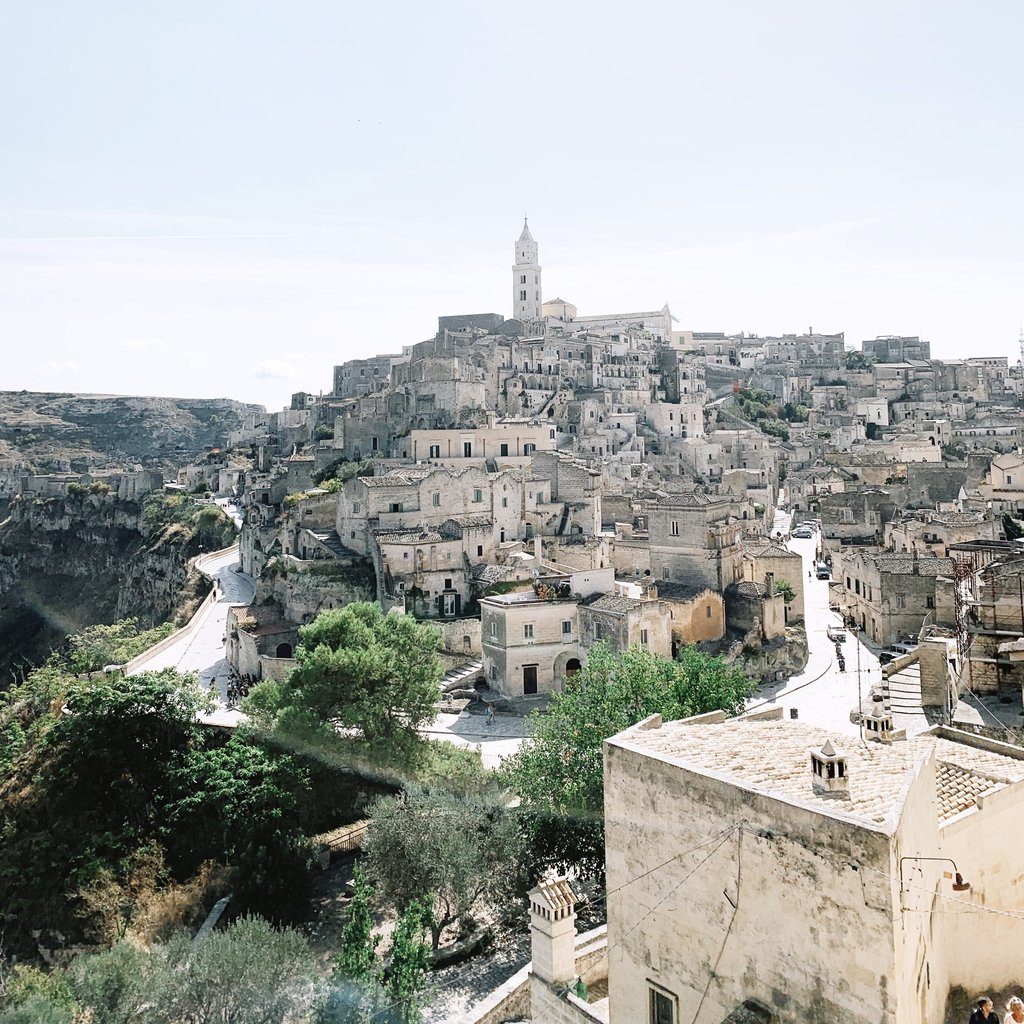 Although it became a UNESCO World Heritage Site in 1993, we did not encounter too many visitors. It still has an undiscovered air as we wandered and marvelled at the ancient sassi.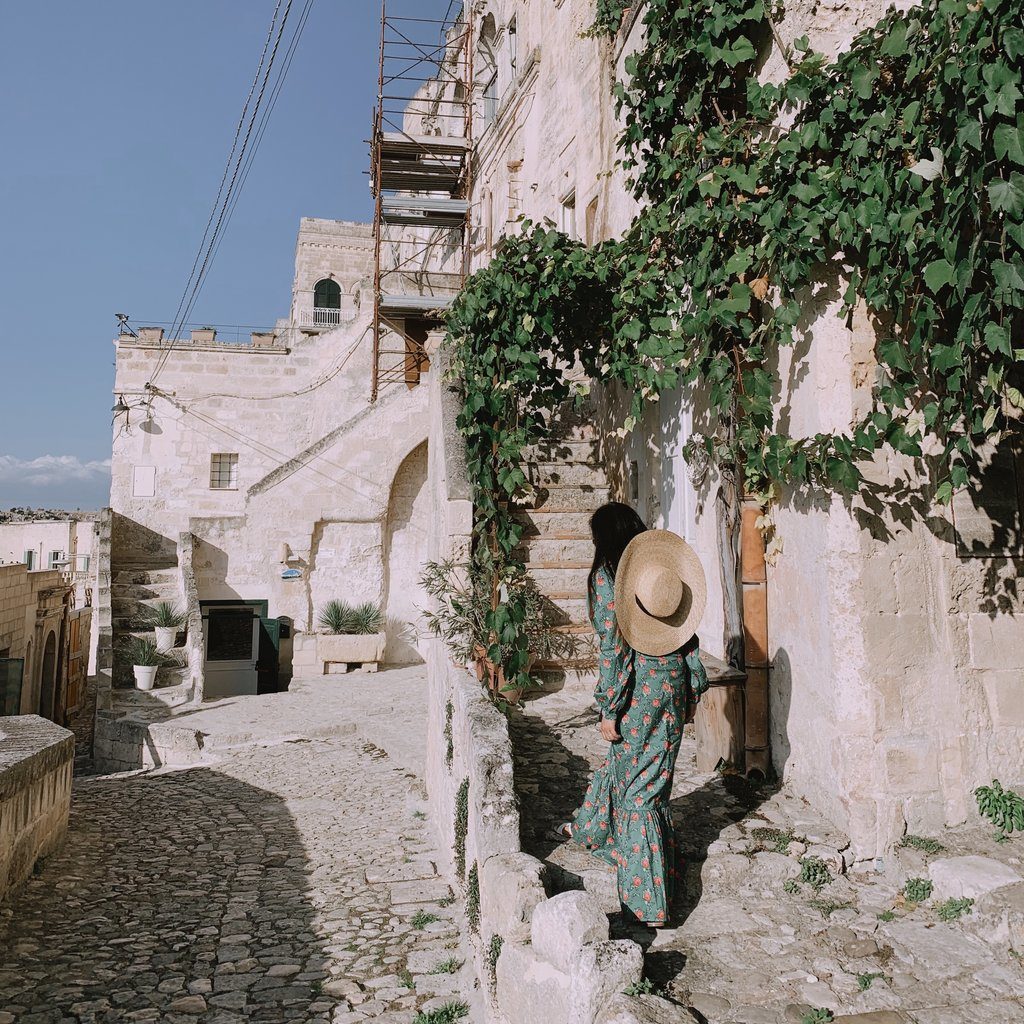 Walk Around Matera
We valet our car at our cave hotel and met our tour guide for an informational walk to churches, alleys, and museums. After the 2 hour tour, we explored on our own and roamed amongst grey stone houses, steep staircases, and breathtaking viewpoints.
Buildings climb up and down the hillside, houses piled on top of each other, the roofs of some acting as streets for those above. They were carved out of the rock and the original caves extended with facades that look like normal homes.
Matera is one of the oldest continuously inhabited settlements in history dating back to the Palaeolithic period. On the other side of the river ravine, you can see the Neolithic caves where people lived 7,000 years ago.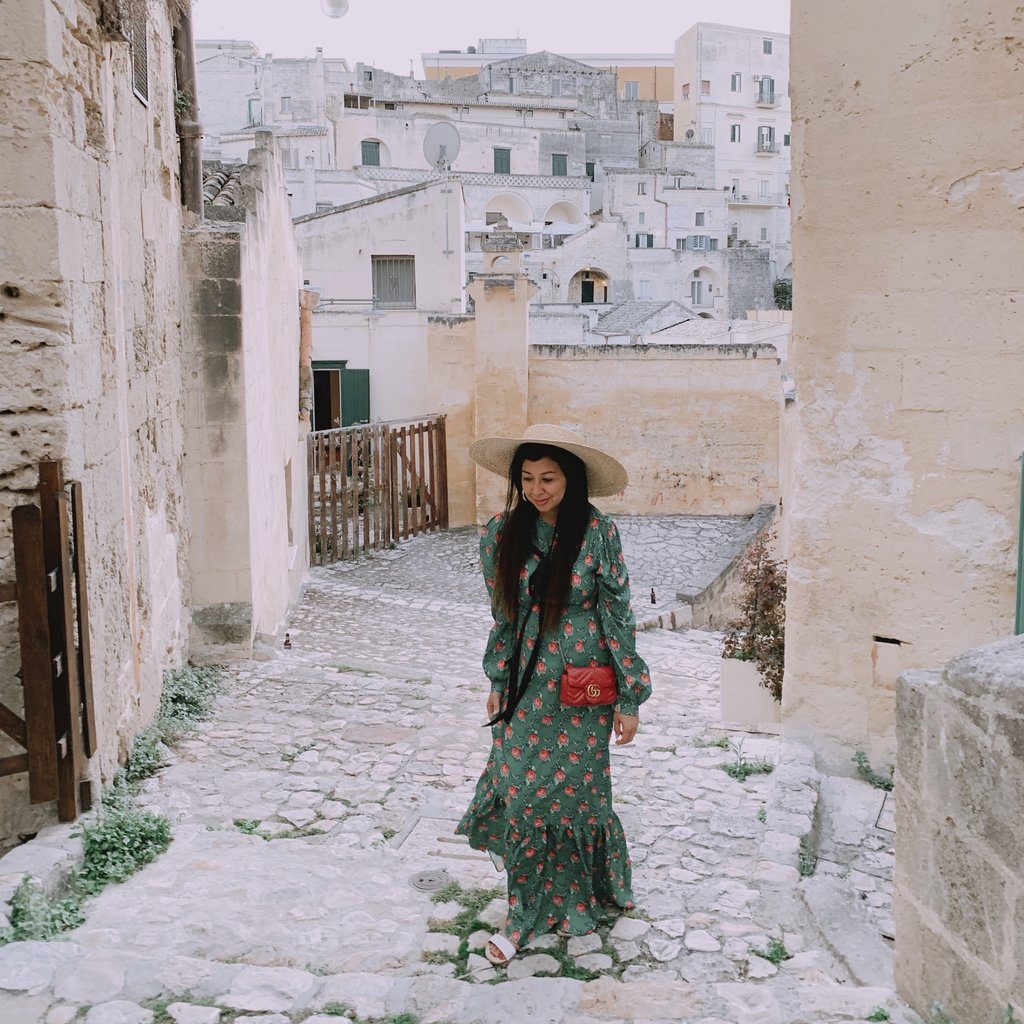 EAT
Yes, there is a Michelin star restaurant in Matera. You can book in advance here. We opted to eat at an ultra-modern and artsy restaurant called Dimora Ulmo ristorante with excellent service and food. You do feel like you're in a Stanley Kubrick movie and we loved it. You can view menu and reserve here.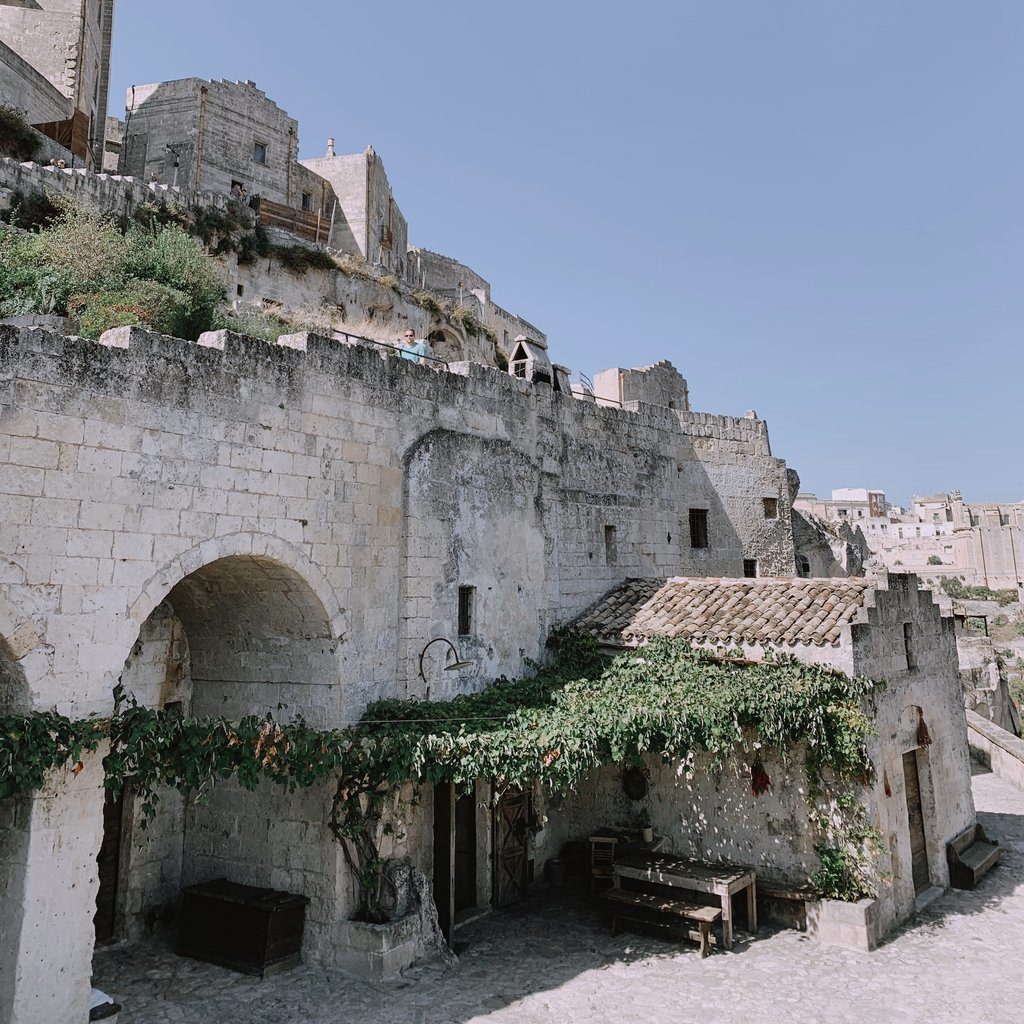 STAY
Sextantio Le Grotte della Civita
A decade-long restoration turned this cave into an beautiful 18 room hotel with a modern amenities. Simple wooden furniture also contributes to an atmospherically monastic mood. Breakfast is served in a former church dating to the 13th century and they serve good espresso.
Il Palazzotto Residence & Winery
We actually stayed here at this 16th-century palace with only 10 rooms. We loved the simple and minimalist design, contrasting the natural-colored stone walls. We sampled one of the wines at the family's vineyards, some 75 miles away at the base of Monte Vulture volcano.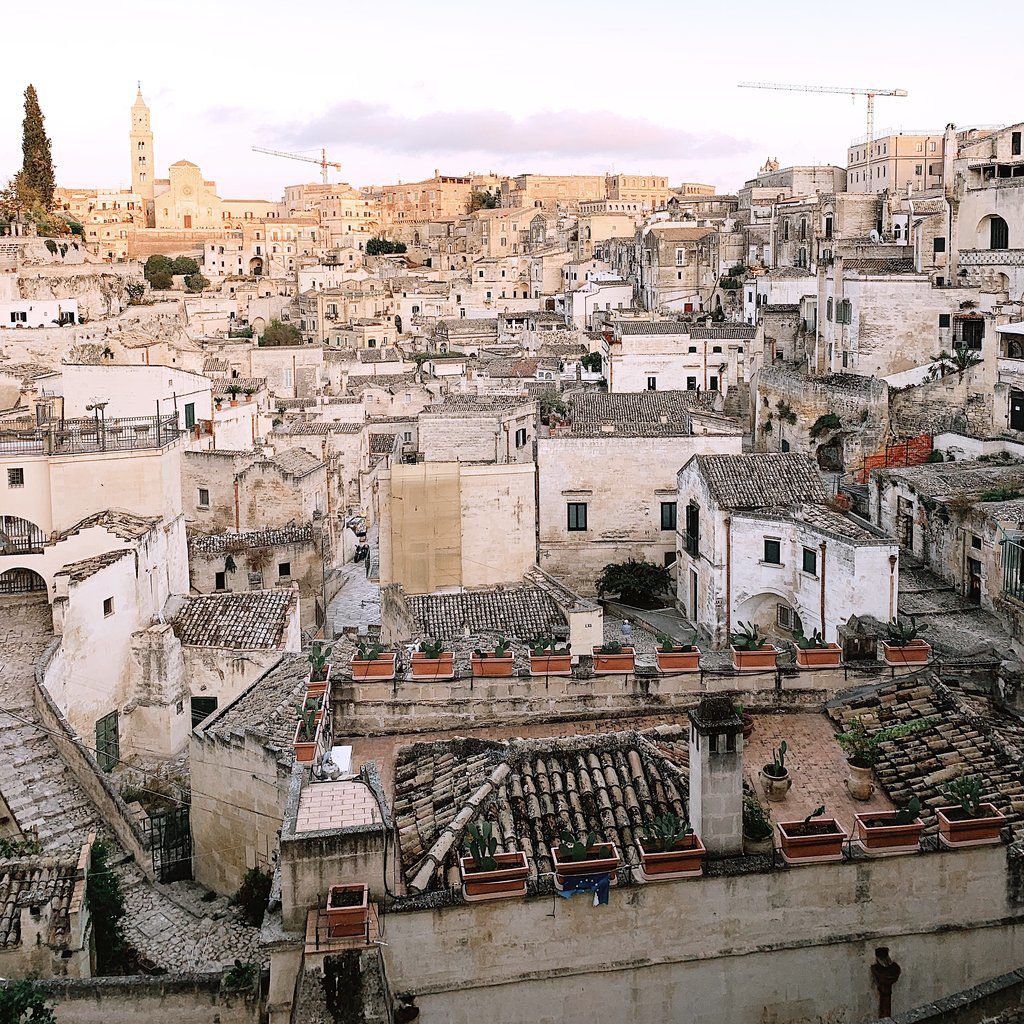 How to Get to Matera
Matera is the ideal place to combine with other Puglia towns. We drove from the Bari Airport, a short hour away.
You can also take the train. The train from Bari to Matera is run by a private company and is a slow commuter train that doesn't run on Sundays. You can see the timetable on the Ferrovie Appulo Lucane website; tickets cost €5 each way and it takes at least 1.5 hours.
Trains leave from the FAL station next to the main station in Bari. From Matera Centrale you can walk to the sassi in about 15 minutes or take the "Linea Sassi" bus.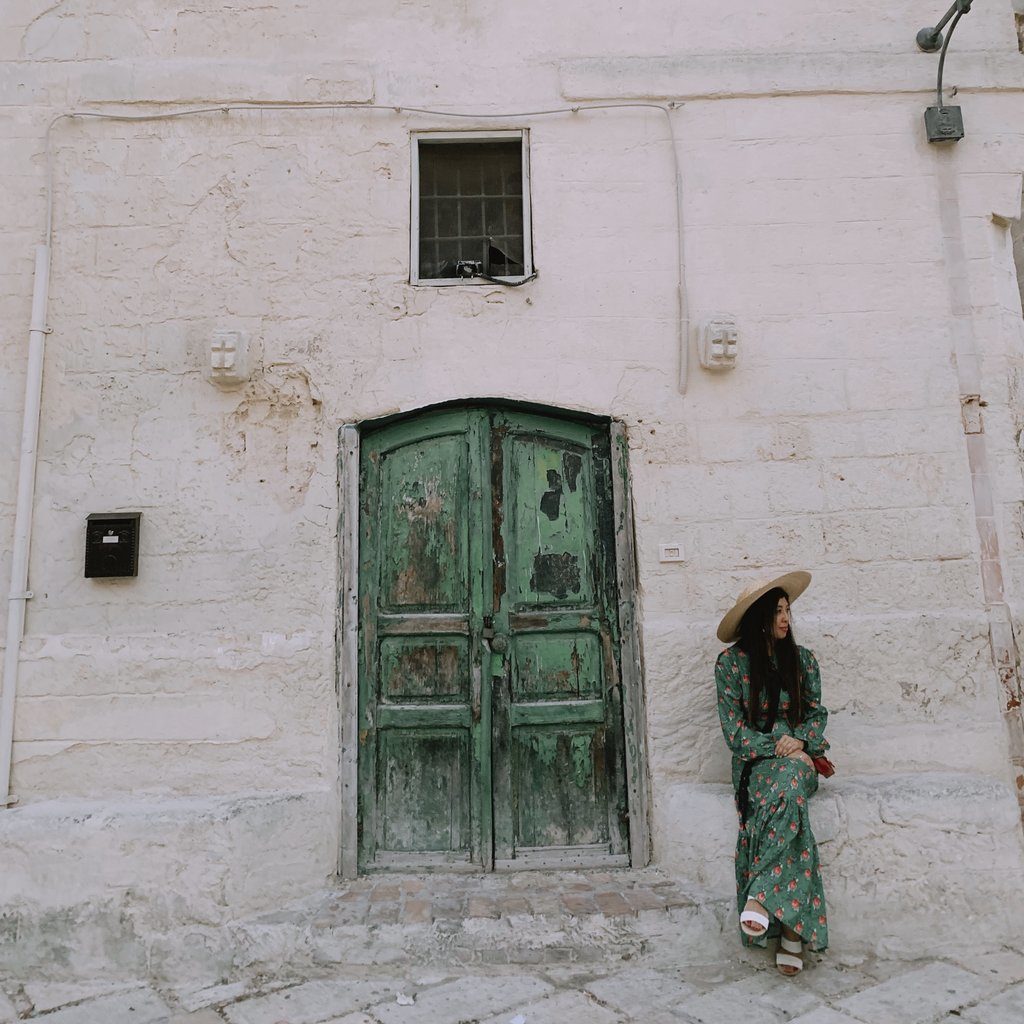 Matera for us is truly special—with spectacular views, fascinating history, and excellent cuisine, it's made even better by the undiscovered feel. Contact us if you'd like for us to plan and design your trip to Matera! We partner with the best tour operators and hotel accommodations for the most memorable experiences.
If you enjoyed this post, share it!