Written By: Ressa Gallardo 
Throughout my travels, I was always known in the family for over packing. I would remember packing five pairs of shoes for a weekend school trip when I was sixteen just because I "never knew" what I would decide to wear. When people rolled their eyes, I simply brushed off their glances with the answer, "I wanted options." It was the thought of unpredictably adventuring away from home that made me completely clueless when it came to packing efficiently. However, now that I'm an experienced, traveling adult, I later learned that packing lightly was the best way of freely traveling. I could transport with ease, never hesitate to go through airport security, and easily place all my belongings inside. I decided to finally share my trusty packing list to the internet in hopes of helping out anyone trying to pack minimally for their upcoming trip. Although the items in this list will be altered inevitably to your personal trip (depending on climate, country, cultural customs, and travel occasion), this go-to list has the basic items needed to help me remember everything I need. Because trust me, traveling is so much more fun when you bring less stuff.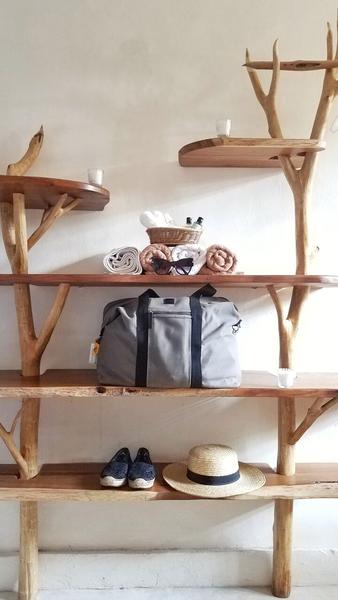 The Packing List:
PASSPORT

 

Paper documents- flight itinerary, hotel bookings, copies of passport, insurance, etc.

 

Wallet- cash and credit cards

 

3 Snack bars

 

Toothbrush and toothpaste

 

Contact lenses: case and contact solution

 

Glasses with case

 

Daytime bag/purse

 

Makeup bag

– brushes, powder makeup products

 

Bathroom bag

-shampoo, conditioner, soap

 

Liquids bag

-facial cleansers, mouthwash, lotions, cream

s

, gels

 

Foldable tote

(for beach)

 

Headphones

 

Towel

 

Hat

 

Camera: lens, memory cards, and charger

 

Sunglasses

 

2 S

andals

 

3 C

asual/sundresses

 

3 T

ops

 

2 T

ank tops

 

3

S

horts

 

1

P

air of PJs

 

2

Swimsuits

 

 

1

P

air of socks

 

Beach cover up

 

Undergarments

– 1 bra, 1 sports bra, 1 strapless + 5 panties

 

Cell phone with charger

 

Empty water canister

 

Medicine bag: c

ough drops

,

tissues, eye mask, Band-Aids,

Airborne, eye drops, Tylenol, Claritin, Dramamine

 

Travel pillow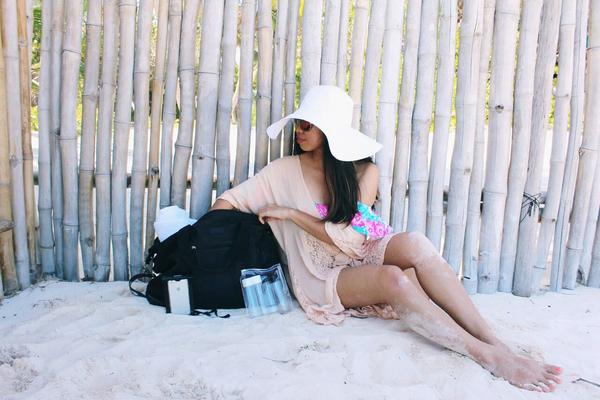 Tada! Sorting out items for your trip will now be a breeze. However, packing it all inside your carry-on is a completely different issue. When I packed all my items inside the Nomoon travel bag, it was a complete game changer for me since I ended up having more room for me to pack my belongings. Here are some tips and tricks on how to pack your items: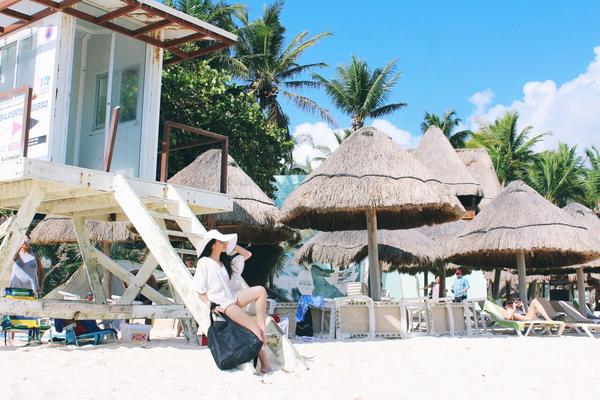 1. Roll up your clothing
.
There's a reason why everyone does it! It compacts the clothing into its smallest size and can easily be stacked together when you are organizing your clothes. Plus, rolling up garments decreases weird creases on your clothing. It's also been the easiest, fastest way of packing a travel bag. 
2. Use compartments in your bag
.
Put your belongings in designated areas, such as having a compartment bag for your makeup, toiletries, dresses, pants, etc. When you're in a hurry, it makes packing ten times more easier when you have an exact place for your items. Also, the compartments would also prevent spreading germs, body odor, and stains from the used clothing you've worn throughout the days you're travelling.   
3. Pack stuff inside your other stuff
. 
If you're packing jewelry, socks, and sneakers, for example, place the jewelry inside each sock and roll the socks inside your sneakers to save up on extra space in your bag. It may sound silly to those who are new to packing this method, but it's an efficient way of sorting out your belongings and placing them in unique spots where people won't easily know or steal. When you master the art of packing your belongings inside other items, you'll find that packing is a breeze!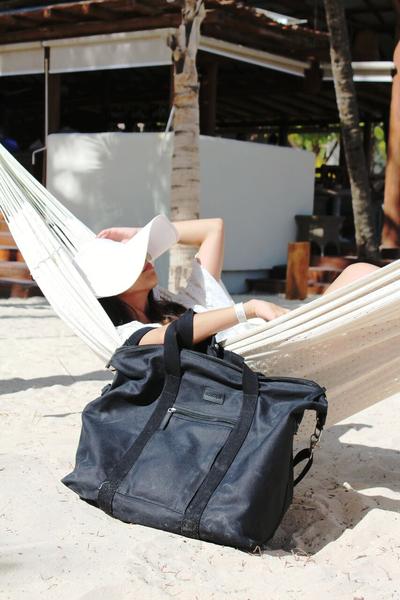 Exploring a new place involves a lot of prepping, and when you are able to easily pack your stuff inside one carry-on, it's a liberating feeling. Because you're not worried about the extra items safely arriving to your destination, your trip experience isn't confined to the stuff you carry. Instead, you're able to fully immerse yourself to the beauty surrounding the country you're visiting.